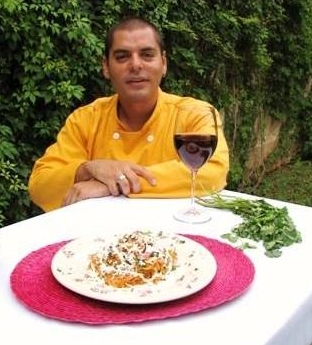 Enjoy and discover authentic and delicious flavors from Mexico, experience traditional and modern Mexican cooking and the best tropical and international cocktails with our experienced personal service.
With five years of experience as a private chef in the heart of the Riviera Maya, Playa del Carmen.

Join Tonatiuh, fourth generation in a family of cooks and restauranteurs. He can ensure that your next event is fun, relaxed and memorable. We will provide a unique and professional service. We cook having fun, with love and pride in our job and skills, and using the best, freshest natural ingredients we can find.
We offer the following services:
* Private Chef & Bartender Service
* Tapas Mexican Style Menu
* Hands on Mexican Cooking Classes
* Breakfast and Brunch available
* We can assist you stocking up your kitchen and/or fridge for you.
* We can assist you with rentals such as china, silverware, cups, glasses,
tables and chairs.
* Live Traditional Mexican Music with Maestro Jorge Hernandez Link
The pricing for the chef service is per person and is set according with the selected dishes, courses and size of the group. The pricing will include the ingredients.
All services will included set up of the bar and kitchen area, the plating and serving of the meals, and clean up of the kitchen and bar area.
Contact Us
Share a word with us or request a quote for our services at: xileverde@hotmail.com
From Canada & USA at:
Cell phone number (+521) 984 104 46 00
Land line (+52) 984 803 15 48
From Mexico & Playa del Carmen at:
Cell phone number (044) o (045) 984 104 46 00
Land line (984) 803 15 48

Featured Private Chef on Paradizo.com