Chef Menu
To start with our Pitchers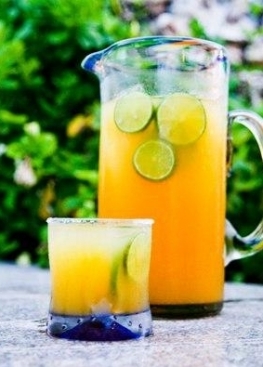 Margarita
The traditional Margarita on the rocks made with fresh juices.

Frozen Mojito
Rum with fresh lime juice and pepper mint.

Blue Kamikaze
Frozen drink made with Vodka, blue Curazao and lime juice
Salsas with Tortilla Chips
Chipotle Salsa
Chipotle Dip
Black Beans Dip
Fresh Salsa
Guacamole
Appetizers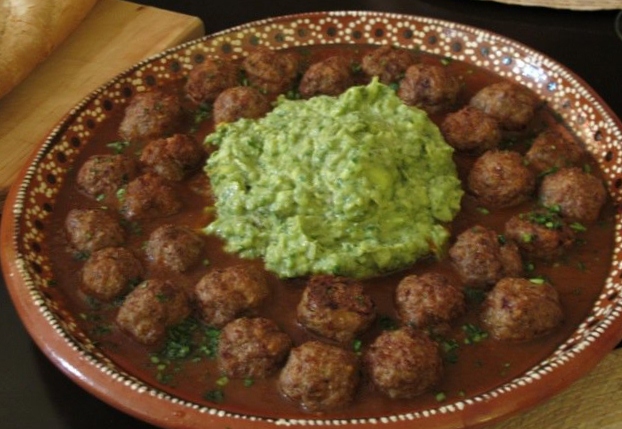 Albondigas al Chipotle
Beef & Pork little meat balls served with guacamole on a bed of chipotle & tomato sauce
Tostaditas Mayas de Salpicon de Res
Pulled prime beef, mixed with a Mayan style fresh salsa, served on top of a little baked corn tortilla with a slice of ripe avocado
Tostaditas de Frijoles
Little Corn tostadas topped with black refried beans, lettuce, onion, crumbled cheese and sour cream with dash of red salsa.
Ceviche de Pescado y Camaron
The local white fish and shrimp Ceviche with a fresh touch of cucumbers.
Coctel de Camarones a la Veracruzana
Shrimp cocktail with a touch of Chipotle peppers and avocado.

Soups
Sopa de Tortilla (Mexican Specialty)
A delicious mix of dry peppers, tomatoes, spices & corn tortillas, garnished with fried tortillas strips, parsley, cream and cheese.
Crema de Chile Poblano
Tasty Cream of Poblano pepper, with spinach & cilantro leafs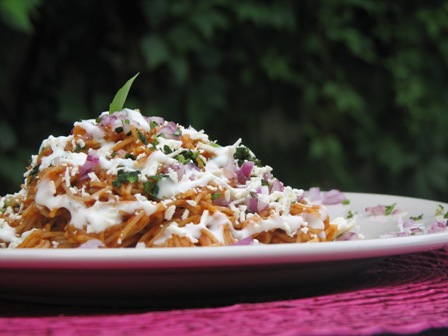 Fideo Seco al Chipolte
Angel hair pasta in Chipotle sauce, topped with chopped red onions, parsley, avocado slices, crumbled cheese & sour cream.
Salads
Spring Tuna Salad
A mix of spring lettuces and baby spinach, with slices of seared Caribbean Tuna steak, butter pears and fresh strawberries topped with a balsamic vinegar dressing & toasted pecans
Ensalada Cesar (Mexican Specialty)
Tasty and sweet romaine lettuce with fresh made croutons, grated Parmesan cheese and crunchy bacon bits, all dressed with our homemade Cesar dressing
Ensalada de Pera
Fresh spinach leafs with slices of sweet pears, crumbled blue cheese & toasted pecans, dressed with a balsamic dressing
Ensalada Mexicana
A mix of fresh lettuce with slices of cucumber, avocado and bell peppers, topped with a citrus-vinegary dressing

Traditional Mexican Courses
Chiles Rellenos
Poblano pepper stuffed with goat and quesillo Oaxaca cheese, served with a basil tomato sauce & refried beans.
Enchiladas Verdes
Folded corn tortillas, filled with pulled chicken breast, or a mix of zucchini, corn and epazote, topped with tomatillo sauce, cream and melting cheese, served with a side of refried beans.
Pavo con Mole
Boneless Turkey Breast, topped with a sauce of dry peppers, peanuts and dark chocolate, served with rice and warm corn tortillas.

Meat Courses

Parrillada Mexicana
Grilled flank steak, chicken and chorizo, served with warm corn tortillas, grilled pearl onions, bell peppers, hot salsa & guacamole.
Cochinita Pibil (Mayan Specialty)
The most popular recipe from the Mexican Caribbean- baked pork roast marinated in a astounding Annatto seed sauce, served with black beans, pickled red onions, habanero salsa & corn tortillas.
Puerco Adobado
Baked pork roast in adobo sauce served with mashed sweet potatoes & veggies
Sea Food & Fish

Langosta del Caribe en Salsa de Tamarindo
Caribbean lobster in Tamarind sauce
Tacos de Pescado y Camaron (Caribbean Specialty)
Fresh local fish and shrimp, served with rice, beans, fresh salsa, chipotle dip, tamarind salsa and warm tortillas.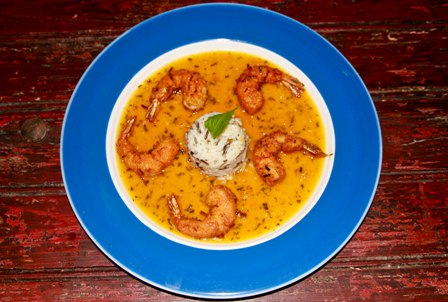 Camarones al Coco en Salsa de Mango
Coconut breaded jumbo shrimp with mango sauce & rice
Camarones al Chipotle
Jumbo shrimp in Chipotle Sauce, served with wild rice
Robalo en Hoja Santa (Oaxaca's Influence)
Local Sea Bass fillet, wrapped in Hoja Santa leaf, with red peppers & capers topped with a tomatillo sauce & served with brown rice & a mix of kernel corn with zucchini
Dessert
Fried Plantain with whipped cream
Ice Cream or Mexican Sorbets with Soaked Seasonal Fruit
Brownies & Vanilla Ice Cream
Mocha Tart
Churros
Rice Pudding